About this report or communique
Report of the Auditor-General No. 2 of 2021-22: Council general manager recruitment, appointment and performance assessment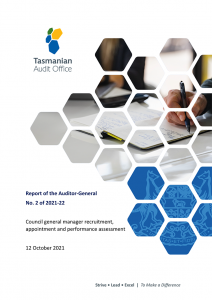 The objective of this audit was to form a reasonable assurance conclusion on whether recruitment and appointment of general managers by local government councils was conducted in accordance with the principles of merit, equity and transparency and whether performance assessments followed the principles of fairness, integrity and impartiality and were aligned with councils' strategic objectives.
The audit examined and analysed general manager recruitment, selection and appointment and performance assessment information for the following councils:
Recruitment, selection and appointment
Brighton
Burnie City
Clarence
George Town
Meander Valley
West Coast.
Performance assessment
Circular Head
Central Highlands
Huon Valley
Launceston City
Northern Midlands
Sorell.
Councils were selected based on their size and location in addition to time the general manager had been in the position.
Addendum – Huon Valley Council general manager recruitment process:
The objective of this review was to form a limited assurance conclusion on the effectiveness of the Huon Valley Council in managing conflicts of interest during the process to recruit a general manager.
This review covered Council's management of conflicts of interest in the recruitment process, which ran from 31 March 2021 to 15 September 2021.
The suitability of the applicant selected for interview and subsequently appointed was not within the scope of the review.