About this report or communique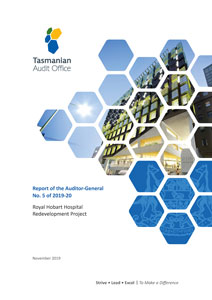 Report of the Auditor-General No. 5 of 2019-20
Royal Hobart Hospital Redevelopment Project
The objective of this audit was to assess the effectiveness of RHH Redevelopment Project (the Project) processes relating to:
project governance, management and reporting
risk management
budgetary and financial management
building and operational commissioning.
The audit examined and analysed information relating to the Project relevant to the audit objective covering the period from the inception of the Project to 31 March 2019, being the date of completion of audit fieldwork. Where appropriate, events subsequent to 31 March 2019 have been taken into consideration.
The audit scope did not include:
clinical services planning
master plans
procurement processes.