About this report or communique
Report of the Auditor-General No. 9 of 2020-21: COVID-19 Support Measures – Small Business Hardship Grant Program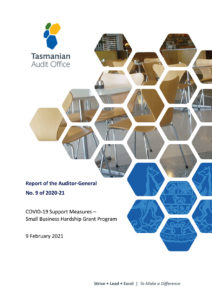 The objective of the review was to form a reasonable assurance conclusion on the effectiveness of State Growth's implementation and management of the Program.
The audit examined:
the design of the Program
the process for assessing applications against the assessment criteria and awarding of funding
reviews requested by unsuccessful applicants who believed their application had been unfairly assessed
communication with applicants.
The audit did not examine controls around payments to successful applicants.