About this report or communique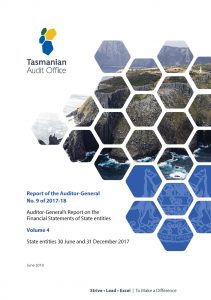 Report of the Auditor-General No. 9 2017-18
Auditor-General's Report on the Financial Statements of State entities
Volume 4
State entities 30 June and 31 December 2017
This Report is the fourth and final volume in our series advising Parliament on the outcome of our financial audits for 2016-17 and the 2017 calendar year and it includes summaries relating to:
the timeliness of financial reporting
audit opinions on financial statements
audit findings
audits dispensed with
setting audit fees for financial audits.
This Report also includes Chapters on:
developments in financial reporting and auditing
public sector readiness for developments in financial reporting
an assessment of Agency audit committees.
STATE ENTITIES COVERED IN THE REPORT
This Report contains a Chapter for the University of Tasmania (University) and its controlled entities; University of Tasmania Foundation Inc (University Foundation), AMC Search Limited (AMC Search) and the Tasmanian University Union Inc (TUU). It also includes a summary Chapter for other 31 December 2017 State entities; ANZAC Day Trust, the Solicitors' Trust and the Theatre Royal Management Board.
The University and the other 31 December 2017 entities included in this Report submitted their financial reports within the statutory deadline apart from the Solicitors' Trust. The audits were completed satisfactorily and unqualified opinions issued in all instances.
The Report also covers the 30 June 2017 audit of River Clyde Trust. River Clyde Trust failed to meet the statutory deadline for the submission of its 30 June 2017 financial statements. This was the third consecutive year it failed to meet this deadline.
A guide to using our Reports can be found here.