About this report or communique
Report of the Auditor-General No. 1 of 2018-19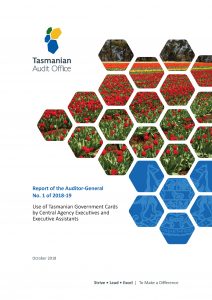 Use of Tasmanian Government Cards by Central Agency Executives and Executive Assistants
The Tasmanian Audit Office's Annual Plan of Work 2017-18 included an examination to assess the probity and propriety of purchases made using Tasmanian Government Cards (TGC) by Ministers, Ministerial advisors, departmental Secretaries and the Chief Executive Officer (CEO) of the Tasmanian Health Service (THS).
From our preliminary examination enquiries we identified:
Ministers were not provided TGCs
the only ministerial advisors with cards were Ministerial Chiefs of Staff.
Consequently, the examination scope was amended to also include all other key management personnel with TGCs in the Agencies. The in-scope cardholders are referred to as the 'selected persons' in this Report. Agencies covered by the review were:
Department of Education
Department of Health and Human Services (now the Department of Health and Department of Communities Tasmania)
Department of Justice
Department of Police, Fire and Emergency Management
Department of Premier and Cabinet
Department of Primary Industries, Parks, Water and Environment
Department of State Growth
Department of Treasury and Finance
THS.
Substantial Agency restructures took place with effect from 1 July 2018, however, this Report refers to Agencies as they were for the period covered by this examination, which was the 2017 calendar year.